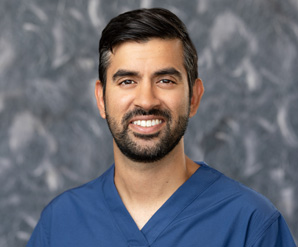 Orthopaedic Sports Medicine Surgeon
Fellowship-Trained & Board-Eligible in Sports Medicine
Specializing in Injuries of the Shoulder, Elbow, Hip & Knee, Arthroscopy, Shoulder Replacement, and Trauma Surgery
Amit Nathani, M.D. is an Orthopaedic Surgeon and Sports Medicine Specialist at The Spine and Orthopedic Center in Santa Barbara, California. He obtained his surgical residency at the University of Michigan, and his fellowship training at the world-renowned Stanford University, where he served as a team physician for the NFL's San Francisco 49ers.
Dr. Nathani specializes in injuries affecting the shoulder, elbow, hip, and knee, as well as general orthopaedics & fracture care. He performs minimally-invasive surgery (arthroscopy) and open surgery including joint replacement of the shoulder. He is trained in the latest cartilage restoring procedures, including the use of biologic and FDA-approved regenerative cell therapy.
Dr. Nathani has published numerous peer-reviewed papers and textbooks related to sports medicine injuries and treatment, including anterior-cruciate ligament (ACL) injuries, rotator cuff tears, and hip injuries among others. He has lectured internationally and is an active member of several orthopaedic societies that focus on improving care and outcomes for his patients.
Dr. Nathani is accepting new patients and performs most of his surgery on an outpatient basis. He also holds privileges at several convenient hospitals. He accepts all types of patients, including those in professional sports, recreational athletes, and patients looking to resume a pain-free and active lifestyle. He prides himself on providing comprehensive & compassionate care, and sees his patients throughout their entire course of treatment, including overseeing the physical therapy and rehabilitation process. He believes in taking the time to properly explain a diagnosis and makes sure patients leave the office with a full understanding and comfort with the treatment plan.
Dr. Nathani is a former Division I Tennis player and continues to enjoy golf and tennis recreationally. He is active in global humanitarian healthcare and donates time to surgical care for the underserved in Haiti and the Dominican Republic.
Clinical Areas of Expertise
Orthopaedic Surgery
Sports Medicine Injuries
ACL surgery
Arthroscopic Surgery
Shoulder Arthritis Surgery (Shoulder Replacement)
Fracture Care
Cartilage Regeneration/Restoration
Biologic Therapy including Stem Cell Research
Education & Training
Graduate School (M.S.)
Oxford University
Oxford, England
Medical School (M.D.)
The University of Illinois
Chicago, Illinois
Orthopaedic Surgery Residency
The University of Michigan
Ann Arbor, Michigan
Sports Medicine & Shoulder Surgery Fellowship
Stanford University
Palo Alto, California
Abbreviated list of recent publications
Education
2008-2012
University of Illinois College of Medicine
2007-2008
University of Oxford
Master of Science in Medical Anthropology: Honors
Oxford, England
2004-2006
University of Illinois-Chicago
Bachelor of Science in Biology: Magna Cum Laude
Chicago, IL
Board Certification and Licensure
California Medical Board
Georgia Medical Board
Board Certified, American Board, Orthopedic Surgery, Part 1
Board Eligible, American Board, Orthopedic Surgery, Part 2
United States Medical Licensing Examination, Steps 1-3
DEA Controlled Substance License
Professional Training
2017-2018
Stanford University
Fellowship in Sports Medicine and Shoulder Surgery
Palo Alto, CA
2012-2017
University of Michigan Residency in Orthopedic Surgery
Ann Arbor, MI
Additional Professional Experience
2019-current
The Spine and Orthopedic Center
Orthopaedic Surgeon
Santa Barbara,CA
2018-2019
Atlanta Orthopaedic Institute
Orthopedic Sports Medicine Surgeon
Atlanta, GA
2018
NFL Combine/San Francisco 49ers
Consultant
San Francisco, CA
2017-2018
Stanford University
Assistant Team Physician, Women's Basketball
Stanford, CA
2017-2018
Notre Dame de Namur University
Head Team Physician
Belmont, CA
2015-2017
Eastern Michigan University
Assistant Team Physician, Men's Division I FBS Football
Ypsilanti, MI
2015-2017
University of Michigan
Assistant Team Physician, Men's NCAA Hockey
Ann Arbor, MI
2014-2017
University of Michigan
Assistant Team Physician, Men's NCAA Basketball
Ann Arbor, MI
2013-2014
Huron Valley High School
Assistant Team Physician, Varsity Boy's Football
Westland, MI
2012-2013
Livonia-Franklin High School
Assistant Team Physician, Varsity Boy's Football
Livonia, MI
Community Activities, Honors and Awards
2018
American Journal of Sports Medicine, Reviewer (AJSM)
2016-2017
University of Michigan
Institutional GME House Officer Forum: Moderator
2016
The John K. Sekiya, MD Peer Educator Award 2016
PGY-4 Most Dedicated to Educating and Guiding Peers
2016
The American Orthopedic Association (AOA) Resident Leadership Forum, Seattle, WA
2016
AAOS Annual Meeting
Best Poster in Shoulder/Elbow Category
2015
AAOS Resident Assembly
Delegate
2014
University of Michigan
OrthElectronic Educational Curriculum Committee, Orthopedics: Member
2014
Orthopedic Surgical Mission Trip, Santo Domingo, Dominican Republic
2015
The Platinum Pager Award
Resident-Peer nominated for excellence as a junior resident
2012
University of Illinois COM
Medical School Admissions Committee Member
2008-2012
UIC College of Medicine Stadwiser Academic Merit Scholarship
2008
Medical Mission Trip & M.S. Fieldwork, Lyantonde, Uganda
2006
The Barry M. Goldwater Scholarship in Math, Science & Engineering
2006
Co-Team Captain, UIC Men's Tennis Team
2004-2006
NCAA Athletic Scholarship
2004-2006
University of Illinois-Chicago
NCAA Division I Men's Tennis Team: Member
2004-2006
NCAA Horizon-League Conference All-Academic Honors
2005
National Science Foundation (NSF) Scholarship/Grant in Behavioral Neuroscience
Professional Memberships
Michigan Orthopedic Society
American Academy of Orthopedic Surgeons
American Orthopedic Society for Sports Medicine
Publications
Palmisano AC, Nathani A, Weber AE, Blaha JD: Femoral Neck Modularity: A Bridge Too Far – Affirms. Seminars in Arthroplasty. 2014; 25(2): 93-97.
Nathani A, Weber AE, Wahlquist T, Graziano G, Park P, Patel RD: Delayed Presentation of Pharyngeal Erosion After Anterior Cervical Discectomy and Fusion. Case Reports in Orthopaedics. 2015; 2015(173687): 1-4.
Kirsch JM, Nathani A, Patel RD: Multiple Adjacent Isolated Thoracic Spinous Process Fractures in High-Energy Trauma. Case Reports in Orthopaedics. 2015; 2015(921526): 1-3.
Weber AE, Nathani A, Allen A, Dines J, Shubin-Stein B, Arendt E, Bedi A: An Algorithmic Approach to the Management of Recurrent Lateral Patellar Dislocation. Current Concepts Review. Journal of Bone and Joint Surgery, American. 2016;98:417-27.
Kirsch JM, Nathani A, Robbins C, Gagnier J, Bedi A and Miller BS. Is there an Association Between the "Critical Shoulder Angle" and Clinical Outcome after Rotator Cuff Repair? Orthopaedic Journal of Sports Medicine. 2016;4(7).
Nathani A, Smith K, Wang T. Partial and Full-Thickness Rotator Cuff Tears: Modern Repair Techniques. Current Reviews in Musculoskeletal Medicine. In Press.
Nathani A, Safran MS. Hip Arthroscopy – Top Procedures in Sports Medicine and Arthroscopy. Sports Medicine and Arthroscopy Review. 26(4):185-189, December 2018.
Nathani A, Cheung E. Elbow Trauma Sequelae: Instability, Stiffness, Non-arthroplasty, and arthroplasty Options. American Academy of Orthopaedic Surgeons (AAOS). Instr Course Lect 68: 117-140, 2019.
Weber AE, Mayer EN, Nathani A, Chen DX, Kelly A, Rodeo SA, Bedi A: How Variable Are Achilles Allografts for Anterior Cruciate Ligament Reconstruction?: A Biomechanical Study. The American Journal of Sports Medicine. 2018: Accepted.
Alaraj A, Nathani A, Amin-Hanjani S, Aletich V, Charbel FT: Brain Arteriovenous Fistulae: Endovascular and Surgical Techniques. In: Jabbour, P, editor. Neurovascular Surgical Technique. Publisher Jaypee. 2014
Weber AE, Nathani A, Bedi A, Sekiya JK: Isolated Posterior Cruciate Ligament Injuries. In: Chapman M, James M, Marder RA, editors. Chapman's Comprehensive Orthopaedic Surgery, 4th Edition. JP Publishing. In Press, 2015.
Nathani A, Mlynarek R, Bedi A: Arthroscopic Treatment of Shoulder Stiffness and Rotator Cuff Calcific Tendinitis. In: Rockwood CA, Matsen FA, Wirth MA, Lippitt SB, Fehringer EV, Sperling JW, editors. Rockwood & Matsen's The Shoulder, 5th Edition. Publisher Elsevier. In Press, 2015.
Nathani A, Grant JA: Dislocation of the Proximal Tibiofibular Joint. In: Scott NW, editor. Insall & Scott: Surgery of the Knee, 6th Edition. Publisher Elsevier. In Press, 2015.
Nathani A, Kirsch J, Hake M: Distal Femoral Fractures. In: Mauffrey C, Johari A, Wang M, editors. Tips and Tricks in Orthopaedic Trauma: A Case Based Approach. In press, 2017.
Nathani A, Safran MS. Hip Instability. In: Safran MS and Karahan M, editors. ISAKOS: Hip and Groin Pain in the Athlete. Publisher Springer. Accepted.
Nathani A, Henning T, Weber AE, Kirsch JM, Burns G, Eslam-Pour A, Urquhart AG: The Validity of Ultrasound to Evaluate the Articularis Genus Muscle: A Cadaver Study. In Preparation.
Nathani A, Monu U, Finlay A, Gold G, Safran MS: Does hyaluronic acid protect against early
cartilage injury seen after marathon running? A prospective, randomized trial utilizing high-field magnetic resonance imaging. Submitted.
Lectures, Presentations and Exhibits
| | |
| --- | --- |
| 6/09 | Abeln K, Nathani A, Amirouche F, Goldberg B: Injectable Calcium Phosphate Cement Augmentation in the Treatment of Proximal Humerus Fractures: A Biomechanical Analysis. The University of Illinois College of Medicine, Department of Orthopaedic Surgery, Senior Thesis Day. Guest Lecturer: Freddie Fu. Chicago, IL, June 2009. |
| 6/11 | Silverstein J, Nathani A, Gourineni P: Oblique In-Situ Screw Fixation of Stable Slipped Capital Femoral Epiphysis: A Biomechanical Analysis. The University of Illinois College of Medicine, Department of Orthopaedic Surgery, Senior Thesis Day. Guest Lecturer: Kevin J. Bozic. Chicago, IL, June 2011. |
| 8/11 | Nathani A, Feldman D: Adolescent Blount's Disease. Grand Rounds, Department of Orthopaedic Surgery, NYU-Hospital for Joint Diseases, New York, NY, August 2011 |
| 6/14 | Nathani A, Miller JD: Geriatric Proximal Humerus Fractures. Grand Rounds, Department of Orthopaedic Surgery, University of Michigan, Ann Arbor, MI, June 2014. |
| 6/15 | Nathani A, Wojtys EW: Recurrent Lateral Patellar Instability. Grand Rounds, Department of Orthopaedic Surgery, University of Michigan, Ann Arbor, MI, June 2015. |
| 9/15 | Nathani A, Carpenter JE: A Complex Case of Recurrent Anterior Shoulder Instability in an Athlete. Case Presentations with Dr. Matthew J. Matava. Department of Orthopaedic Surgery, University of Michigan, Ann Arbor, MI, September 2015. |
| 9/15 | Nathani A, Carpenter JE: Recurrent Anterior Shoulder Instability in the Elite Athlete. Case Presentations with Dr. Russell F. Warren. Badgley Alumni and Research Day, Department of Orthopaedic Surgery, University of Michigan, Ann Arbor, MI, September, 2015. |
| 6/15 | Nathani A, Henning T, Weber AE, Kirsch JM, Burns G, Eslam-Pour A, Urquhart AG: The Validity of Ultrasound to Evaluate the Articularis Genus Muscle: A Cadaveric Study. Michigan Orthopaedic Society, Annual Meeting, Mackinac, MI, June 2015. |
| 9/15 | Nathani A, Henning T, Weber AE, Kirsch JM, Burns G, Eslam-Pour A, Urquhart AG: The Validity Of Ultrasound to Evaluate the Articularis Genus Muscle: A Cadaveric Study. Badgley Alumni & Research Day, Ann Arbor, MI, September, 2015. |
| 3/16 | Kirsch JM, Nathani A, Robbins CB, Gagnier JJ, Bedi A, Miller BS: Is there an association between the "critical shoulder angle" and clinical outcome after rotator cuff repair. Abstract. American Academy of Orthopaedic Surgeons, Annual Meeting, Orlando, FL, March 2016. |
| 3/16 | Kirsch JM, Nathani A, Robbins CB, Gagnier JJ, Bedi A, Miller BS: Is there an association between the "critical shoulder angle" and clinical outcome after rotator cuff repair. Poster Presentation, Orthopaedic Research Society, Annual Meeting, Orlando, FL, March 2016 (future). |
| 6/16 | Nathani A, Irwin T: Evidence-Based Operative Treatment of Osteochondral Lesions of the Talus. Grand Rounds, Department of Orthopaedic Surgery, University of Michigan, Ann Arbor, MI, June 2016. |
| 7/16 | Kirsch JM, Nathani A, Robbins CB, Gagnier JJ, Bedi A, Miller BS: Is there an association between the "critical shoulder angle" and clinical outcome after rotator cuff repair. Podium Presentation, American Orthopaedic Society for Sports Medicine (AOSSM), Annual Meeting, Colorado Springs, July 2016 (future). |
| 9/15 | Nathani A, Henning T, Weber AE, Kirsch JM, Burns G, Eslam-Pour A, Urquhart AG: The Validity Of Ultrasound to Evaluate the Articularis Genus Muscle: A Cadaveric Study. Badgley Alumni & Research Day, Ann Arbor, MI, September, 2015. |
| 3/17 | Kirsch JM, Mlynarek R, Nathani A, Dines JS, Warner JP, Walch G, Bedi A: What is the Role of Computer-Assisted 3D Modeling for Pre-operative Planning of Shoulder Arthroplasty. Scientific Exhibit. American Academy of Orthopaedic Surgeons, Annual Meeting, San Diego, CA, March 2017. |
| 4/17 | Nathani A, Freehill MT: SLAP tears. Case Presentations with Dr. Craig Morgan Department of Orthopaedic Surgery, University of Michigan, Ann Arbor, MI, April 2017. |
| 5/17 | Nathani A, Miller BS: Fascioscapulohumeral (FSH) Muscle Dystrophy. Grand Rounds, Department of Orthopaedic Surgery, University of Michigan, Ann Arbor, MI, May 2017. |
| 9/17 | Nathani A, Fanton G.: Posterior Cruciate Ligament (PCL) Injuries. Grand Rounds, Department of Orthopaedic Surgery and Sports Medicine, Stanford University, Palo Alto, CA, September 2017. |
| 2018 | Nathani A, Safran MS: Hip Instability. Grand Rounds Visiting Professor: Dr. J.W. Thomas Byrd, Department of Orthopaedic Surgery and Sports Medicine, Stanford University, Palo Alto, CA, 2018. |