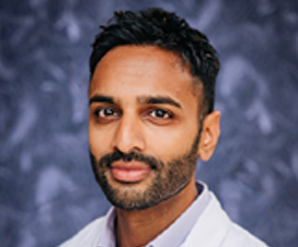 Dual Board Certified Neurologist and Interventional Pain Physician, Fellowship Trained in Pain Medicine and Sports Neurology,Specializes in General Neurology, Traumatic Brain Injury, Headaches, Concussions, Neuromodulation, and Acute Pain Management.
Dr. Hirsh Kaveeshvar, DO was born and raised in Detroit, MI. Upon graduating with a B.S. with honors from Michigan State University he earned his medical degree from Michigan State University College of Osteopathic Medicine in 2012. He continued his residency in neurology training at the renowned and highly ranked Henry Ford Medical Center Department of Neurosciences in Detroit, MI. Thereafter, he was awarded a competitive fellowship at Wayne State University/Detroit Medical Center ACGME-accredited training program in the subspecialty of Interventional Pain Management with the Department of Anesthesiology. As a diplomate of the American Board of Psychiatry and Neurology (ABPN), Dr. Kaveeshvar is one of the few physicians double boarded in general neurology and interventional pain management.
In 2017, Dr. Kaveeshvar had the opportunity to come to Southern California and train at the prestigious KerlanJobe Orthopedic Clinic and receive mentorship under Dr. Vernon Williams, MD in the field of Sports Neurology. He has been based out of Southern California ever since.
Dr. Kaveeshvar's area of expertise include the evaluation and treatment of back and neck pain, headaches/migraines, traumatic brain injury, concussion, musculoskeletal and arthritis disorders, cancer pain, neuromodulation and acute pain management. He is specialized and highly trained in a variety of pain management procedures including but not limited to fluoroscopic-guided spinal injections, nerve blocks, epidurals, spinal cord stimulators and other minimally invasive surgeries. With a comprehensive treatment approach, Dr. Kaveeshvar believes he can provide the best care for his patients on an individual basis.He is determined to make quality medical care more accessible through digital health care and places an emphasis reducing the reliance on medications and on a comprehensive lifestyle based approach towards health.
Education
2008-2012
Michigan State University
Doctor of Osteopathic Medicine
East Lansing, MI
2004-2008
Michigan State University
BS in Human Physiology
East Lansing, MI
Board Certification and Licensure
Board Certified in Pain Medicine
Board Certified in Neurology
Permanent Medical License, State of California#15212
Qualified Medical Examiner (QME)
Professional Training
2017-2018
Kerlan-Jobe Orthopedic Clinic
Sports Neurology/Concussion Fellowship
Los Angeles, CA
2016-2017
Wayne State University/Detroit Medical Center
ACGME Accreddited Anesthesia Pain Medicine Fellowship
Detroit, MI
2013-2016
Henry Ford Hospital
ACGME Accredited Adult Neurology Residency
Detroit, MI
2012-2013
St. Mary Mercy Hospital
ACGME/AOA Transitional Year/Internal Medicine Internship
Livonia, MI
Additional Professional Experience
2021-Present
The Spine and Orthopedic Center
Neurologist/Interventional Pain Physician
Santa Barbara,CA
2020-Present
HKLA NeuroPain
Independent Contracted Pain Physician Neurologist
Los Angeles,CA
2020-Present
SynergexMed
Neurologist/Interventional Pain Physician
Philadelphia, PA
2019-2020
Advanced Center of Neurology and Headache
Neurologist
LA County,CA
2018-2020
Advanced Pain Management/Santa Clarita Surgery Center
Interventional Pain Physician
LA County,CA
2017
University Pain Clinic
Interventional Pain Attending
Detroit,MI
2006-2007
Michigan State University
Chemistry/Physics/Accounting Tutor
East Lansing,MI
Professional Memberships
American Academy of Neurology
American Osteopathic Association
North American Neuromodulation Society
Attending Staff
Carrillo Surgery Center
Central Valley Surgery Center
Current Academic Appointments
Michigan State Univ. Osteopathic Medicine Clinical Faculty
Publications
Loomba Vivek MD, Kaveeshvar Hirsh DO, Upadhyay Aman MD, Sibai Nabil MD: Neuropathic Pain in Cancer Patients: A Brief Review. Indian Journal of Cancer, July-September 2015, Volume 52, Issue 3.
Kaveeshvar Hirsh DO, Kashouty Rabih MD, Yono Noor MD, Pure Transient GlobalAmnesia in Aortic Dissection. Cardiovascular Journal of Africa, November 2015, Volume 26, Issue 6. PMID: 26659651
Loomba Vivek MD,Upadhyay Aman MD, Kaveeshvar Hirsh DO: Radiofrequency Ablation of the Sphenopalatine Ganglion using Cone Beam Computed Tomography forIntractable Cluster Headache. Pain Physician, September 2016, Volume 19, Issue 7.
Loomba Vivek MD, Kaveeshvar Hirsh DO, Dwivedi Samvid DO: Paraplegia After Thoracic Epidural Steroid Injection. Anesthesia and Analgesia Case Reports, September 2016, Volume 7, Issue 6. PMID: 27536909
Lectures, Presentations and Exhibits
| | |
| --- | --- |
| 7/18 | Lecturer DAAO. Osteopathy and Sports. Munich, Germany. |
| 12/2014 | Cohen, Steven P., et al. "Epidural Steroid Injections, Conservative Treatment, or Combination Treatment for Cervical Radicular Pain: A Multicenter, Randomized, Comparative-effectiveness Study." Anesthesiology 121.5 (2014): 1045-1055. (Presented by Kaveeshvar Hirsh DO, December 2014 Henry Ford Hospital Department of Neurology Journal Club). |
| 11/2014 | "Cervical radicular pain: A Review of our options". (Presented by Kaveeshvar Hirsh DO, November2014 Henry Ford Hospital Department of Pain Medicine Journal Club). |
| 11/2014 | "Neuropharmacology/toxicology/genetics subject review". (Presented by Kaveeshvar Hirsh DO, December 2014 Henry Ford Hospital Departmentof Neurology Residency In-service Training Exam Review Series). |
| 01/2015 | "Basic Pain Pharmacology": (Presented by Kaveeshvar Hirsh DO Neuropharmacology series, January 2015, Henry Ford Hospital, Department of Neurology). |
| 05/2015 | "Neonatal Stroke": (Presented by Kaveeshvar Hirsh DO Pediatric neurology series, May 2015, Henry Ford Hospital, Department of Neurology). |
| 05/2015 | Loomba Vivek MD, Kaveeshvar Hirsh DO, Upadhyay Aman MD: Radiofrequency Ablation of the Sphenopalatine Ganglion using Cone Beam CT: ASRA Annual Regional Anesthesiology and Acute Pain Medicine Meeting May, 2015 Las Vegas, Nevada |
| 10/2015 | Ahmad Omar MD, Ibrahim Elmoataz MD, Kaveeshvar Hirsh DO, Dayyoub Tammam MD, Siddiqi Ahmad MD, Yousef Asad MD: Improving MyChart Enrollment. Henry Ford Hospital Quality Improvement Expo October 2015, Detroit, MI |
| 11/2015 | "Visual System": (Presented by Kaveeshvar Hirsh DO Neuroanatomy series, November 2015, Henry Ford Hospital, Department of Neurology). |
| 01/2016 | "Neurocutaneous Syndrome": (Presented by Kaveeshvar Hirsh DO Pediatric Neurology Series, January 2016, Children's Hospital of Michigan, Department of Pediatric Neurology). |
| 02/2016 | "Neuralgic Amyotrophy" (Presented by Kaveeshvar Hirsh DO Clinical Neurophysiology Journal Club, February 2016, Henry Ford Hospital, Department of Neurology). |
| 02/2016 | Kaveeshvar Hirsh DO, Loomba Vivek, MD: Pain as Presenting Symptom of Primary Progressive Multiple Sclerosis. Henry Ford Hospital Medical Education Research Forum February 2016, Detroit, MI |
| 03/2016 | "The Role of Exercise in Neurological Disease" (Presented by Kaveeshvar Hirsh DO Neuroscience Grand Rounds, March 2016, Henry Ford Hospital, Department of Neurology and Neurosurgery). |
| 08/2016 | "Cortical Neurostimulation for Neuropathic Pain: State of the Art and Perspectives" (Presented by Kaveeshvar Hirsh DO Department of Pain Medicine Journal Club, August 2016, Wayne State University/Detroit Medical Center, Department of Anesthesiology and Pain Medicine). |
| 08/2016 | "ntrathecal Drug Delivery" (Presented by Kaveeshvar Hirsh DO Department of Pain Medicine Pharmacology Series, August 2016, Wayne State University/Detroit Medical Center, Department of Anesthesiology and Pain Medicine). |
| 09/2016 | "Thoracic Paraplegia after Epidural Steroid Injection" (Presented by Kaveeshvar Hirsh DO Department of Pain Medicine Morbidity and Mortality Series, September 2016, Wayne State University/Detroit Medical Center, Departmentof Anesthesiology and Pain Medicine). |
| 09/2016 | "Surgery versus Physical Therapy for a Meniscal Tear and Osteoarthritis" (Presented by Kaveeshvar Hirsh DO, Department of Pain medicine Journal Club, September 2016, Wayne State University/Detroit Medical Center, Department of Anesthesiology and Pain medicine). |
| 10/2016 | "Pain Emanating from the Neck" (Presented by Kaveeshvar Hirsh DO Department of Pain Medicine Lecture Series, October 2016, Wayne State University/Detroit Medical Center, Department of Anesthesiology and Pain Medicine). |
| 11/2016 | "Capsaicin 8% Patch for Lumbosacral Pain" (Presented by Kaveeshvar Hirsh DO Department of Pain Medicine, November 2016, Wayne State University/Detroit Medical Center, Department of Anesthesiology and Pain medicine). |
| 06/2018 | "Cosmetic Neurology" (Presented by Kaveeshvar Hirsh DO Department of Sports Neurology and Pain Medicine, June 2018, Cedars-Sinai Kerlan Jobe Institute). |
| 06/2018 | "The Role of Exercise in Neurological Disease" (Presented by Kaveeshvar Hirsh DO Department of Sports Neurology and Pain Medicine, June 2018, Cedars-Sinai Kerlan JobeInstitute). |